Crosstex Biological monitoring service
The Largest sterilizer testing lab in north america
---
millions of spore tests... 1 mission:
to protect our diverse clientele
Medical, Dental, Veterinary, Beauty, Tattoo & Piercing
Offering 24/7 Online Biological Test Results & Clinical Consultations For All Clients
Committed to protecting your patients, your staff and your practice.
Learn why our clients choose crosstex for sterility assurance.
Mail-in spore test results in as little as 24 hours

for steam, 72 hours for chemical, 7 days for dry heat and EtO upon receipt of spore strips in our laboratory. 

Compatible

with dry heat, chemical EtO and steam sterilizers.
Your choice of immediate test failure notification by fax or email with a follow-up phone call the next day from one of our customer care consultants.
Sterilization results are faxed or emailed quarterly and annually.

Check results online

24 hours a day on our secure confidential website.

Third party documentation

of test results provides a tangible record when proof of testing must be provided.

Highly resistant dual-species bacterial spores

provide the most reliable method of testing for an effective sterilization cycle.

One of the most cost-effective

methods of biological monitoring. 

Products are US Food and Drug Administration cleared.

OSAP Corporate Super Sponsor

Corporate member of AAMI, serving on many sterilization working groups

Participating corporate member with

DIAC, DTA, HIDA, ADAA, ADHA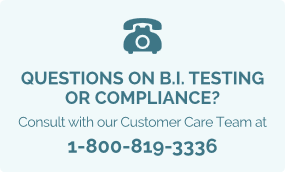 Crosstex is committed to your practice's success and safety. Click here to send a request for more information.
COMPLIMENTARY REMINDER PROGRAM FOR ALL CLIENTS
Utilizing Crosstex® as your testing lab for Mail-in Sterilizer Monitoring Services allows you to partake in our complimentary Reminder Service, which provides customers with alert notifications of a missed test date by email or fax (as indicated in your preferences).